Mini-Minutiae Rants
So, what happened to all the Necco wafer conversation hearts this year? Were they not made? Did they sell out? Did I go to the wrong stores? I came up with nothing after driving to 4 stores!!!
I was looking forward to blogs filled with I hate Valentine's Day etc.....nothing. Perhaps now that retail has co-opted this, maybe no one can say it better than corporate?
Recently my neighborhood has been into this anti-McMansion thing. I'm into the anti-McMansion thing myself. I'm pro yard, anti the razing of cute, working, stable little homes from the 50s and 60s, anti-McMansion developers, anti-McMansion trash. Crestview and Brentwood are cute little hoods with tract and ranch homes. Some were not kept up as well as others. So tear them down and put in a cute little home that fits the lot and aesthetic of a basic American foursquare.
On Ebay those house plan books from the past go for big bucks and I see new books at the stores selling "vintage" plans, repro-retro etc...so there are people out there interested in these homes. Hmmm I'd like to see more stucco California Mission style myself like the few that are sprinkled about town but....
But are Austinites really all in favor of these ill constructed, ill looking giant, chicken coop homes.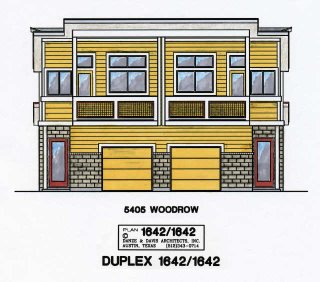 My Grandad built chicken coops for his birds and they looked just like the modern urban homes they are building sans the glass on windows and the garages. They aren't attractive, post-modern looking glamour homes, not repro-retro California style, not at all reminiscent of the new classic and much coveted Usonian home, or even Joe Eichler (who built homes from 1947 to 1973, using architects Anshen & Allen, Jones & Emmons and Claude Oakland), nothing like that. Pure Post modern Chicken Coop. They go up in like one month, made of plywood and sell for upwards of $300K! They don't look at all stable or secure.
(
My Grandparents in Mexico built a home in the 60s that is so ultra modern. I don't have a photo but I have the blueprints and would love to build that home in town (huge pipe dream). It looks fresh today and is the missing link between the 50s ranch and what Metrohouse is doing. Why can't people put up homes like those I wonder.
)
So what happens is it looks out of place up against homes from the 40s and ranch homes from the 50s and the run down rentals. Those structures themselves I feel will look run down in a few years. They are all painted so drab, earth toned. Too many Frank Lloyd Wrongs with money.
They speak of density. Things that are done well in other cities fail in this town because there is a lack of intelligent resources when it comes to city planning. If you want a single family home over 2100sqft, new! then you are burb material. Duplexes? I would never want to OWN one. Special people live in those things and own one. I see future rentals when I see duplex. Metrohouse does their stuff well (not too crazy about
all
Studio Momentum has done though). It's these others who do post modern so poorly. I wish Metrohouse would stop with charging so much though. I guess we"need" duplexes now? Is the yard passe? So anyway, my hood is quickly becoming a zoning nightmare. Like eating oysters at 2am and watching that Jacque Tati movie with that modern home then falling asleep.....
People with bad taste and bad ideas and no vision may win again. Mediocrity and greed are ruining Austin.