Donkey cart
We now subscribe to a service that brings organic groceries to your door. After considering this service for about a year or so the push to sign on came from watching Food Inc. Though I've read the Michael Pollan books and other books about our tainted food industry and have already made changes, the documentary really made me want to do even more for us. Greenling has made procuring good food so much easier so why not take advantage of it. Saturdays still offer the farmer's market but now we can have local produce and meats during the week.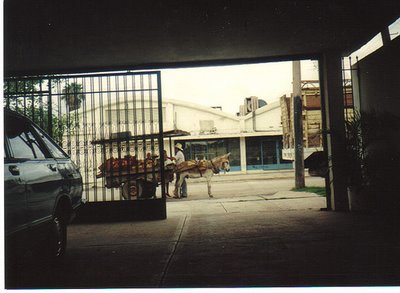 In Mexico, when we'd visit over the summers, I loved the donkey cart filled with produce that came from small farms around Los Mochis. It would make a stop at my Abuelita's house daily and I loved helping to pick out the tomatoes, cabbage, lettuce and coconuts. Being able to pet the donkey was also something to look forward to. These were the pre-NAFTA days when Mexican farmers were still able to make a living and there were donkey carts and open air markets all over. The milk came from Yaqui dairies and were delivered in glass bottles every morning. Orange juice came from orange trees in the backyard, so did limes, mangoes and papayas. Everything used to be so fresh.
I wish we were successful enough gardeners to have enough veggies to share with neighbors. My other set of Grandparents have always kept chickens and had fresh eggs. My Grandmother still makes her own salsa, tortillas and anise and Mexican pastry breads from scratch. They grow tomatoes, chile peppers, peaches, pears, figs for preserve and pumpkins for empanadas. They share their gardening successes with us everytime we visit. My Grandfather has always told me, since I went off to college, to get a piece of land and put some goats, chickens and a big garden. My Grandmother has always told me that I can make anything and there is no need to go to the store for everything. I'm trying the best I can with what we have in the middle of Austin. I'm looking forward to our modern day donkey cart.
Labels: nostalgia